Nigerian food is an interesting combination of spices and flavors. A taste of a Nigerian dish guarantees you'll come back for more. If you're not familiar with Nigerian foods and you're looking to explore, we've got you! Go through this list to find out foods to try and how best to enjoy them.
Amala and Ewedu
This meal is peculiar to the Yoruba people of southwestern Nigeria. Amala is basically fine ground yam flour and Ewedu soup is made out of jute leaves. It is usually had with Nigerian stew and sometimes, Gbegiri (soup made of ground beans).
Banga and Starch
A dish that originally belongs to people from the south – south region of Nigeria. Banga is palm nut soup with lots of fish and meat. Starch is thick 'swallow' made from cassava and with Banga, it is mouth wateringly good.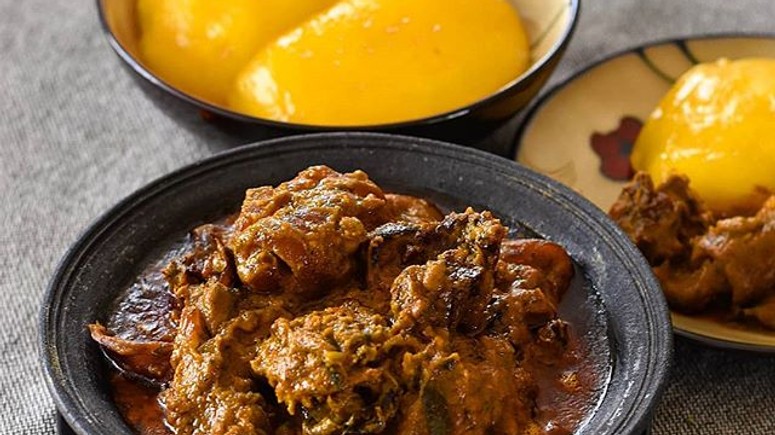 Pounded yam and Egusi soup
This is a popular choice among Nigerians who love to eat swallow. It is very filling as it is made of yam and egusi soup, made of melon seeds. Depending on the cook, Egusi can be infused with vegetables to make it healthier and tastier.
Fufu and Edikaikong
This vegetable soup is one that originated from the Efik people of Southern nigeria. Making it can be a bit expensive, but that's a small price to pay for this kind of delicacy. It is usually eaten with Fufu: swallow made from fermented cassava.
Afang soup and Eba
Afang soup is a very rich soup from Southern Nigeria. It is often served at weddings or special occasions. If you're looking to explore Nigerian foods, this is one that you must try because of its yummy flavors. It can be eaten with a different array of swallows but Eba is the most popular choice.
Moin Moin and Pap
This meal is typically a weekend breakfast. Its a very popular meal from Western Nigeria, basically steamed ground beans in banana leaves. A lot of times, its eaten with pap (corn pudding similar to custard) or soaked garri.
Ofe Onugbu
Also called bitter-leaf soup is a popular Nigerian soup peculiar to the Igbo ethnic group of Eastern Nigeria. A popular myth is that, the soup tastes bitter because of the name but it is far from it and is best enjoyed with a wrap of Eba.
Oha soup
Oha soup is native to the South Eastern Nigeria. It is very similar to bitterleaf soup although its cooked with different leaves: Ora leaves. Oha soup is seasonal so make sure to ask for it when the leaves are in season. It is best eaten with Fufu or Eba.
Jollof rice
The almighty Jollof rice is a flavorful version of rice eaten across West Africa. Although, every country in the region has added a twist to theirs but Nigerian jollof reigns supreme (yes, I said it!) so it would be unfair to come into Nigeria without actually tasting it. Its basically rice boiled in tomato sauce and spices.